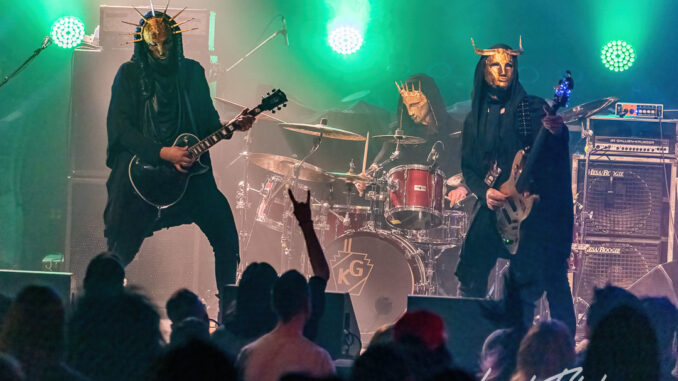 Ever go to a metal show or perhaps even listen to it on a Spotify channel and begin to think that it is all starting to sound the same?   I have attended lots of shows where I have seen 5 bands and a week later I have forgotten who those bands were and what they sounded like.  Thankfully, every once in awhile something original or breakthrough comes to Vancouver's Rickshaw Theatre and this band tonight is Imperial Triumphant.
Imperial Triumphant is not a band that adheres to any one metal genre according to my ears.  They are VERY extreme Avant-garde, with black metal/blackend metal atmospheric rhythms, some jazz, saxophone, piano pieces and many other percussive sounds incorporated.  Not to mention, the look of the band itself, wearing gold masks and black robe like clothing.   Perhaps they wear this for a number of reasons, not only for some creepy entertainment value or too shock, but also for the listener to concentrate on the music before them rather than looking at the face of humanity.  I get it, and here I think with their music, it's appropriate.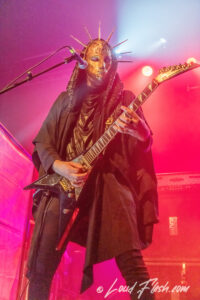 The band is based out of New York, is comprised of Zachary Ilya Ezrin – vocals, guitars, Kenny Grohowski and Steve Blanco – bass.   They released their last album in 2020 called "Alphaville".
Lets start off with the first song, with "Sodom" (off and EP called "Goliath 2013), which opening symphonically starts off with what I would say Sodom might sound like.  Then it blasts into black metal like guitar mixed with and lyrics that start like this:
"A shrine to the trident throne
Upon the altars of whores
That which is the breath of lunacy
What tongues doth they speak?"
Love it, and really sets the tone for the rest of the set.   I mean, to most in the audience really are having a "Whoah! WTF is this" moment.  At this point, they probably do wonder what 'tongues' does this band actually speak as much of the vocals are hard to understand (as with most black metal/death metal).
Another cool song (song 3), 'Transmission to Mercury', starts off with elegant piano (backing track) with some calming saxophone.  At this point Zachary grabs a bottle of what appears to be Champagne and proceeds to pour it in the audience to drink (and they do!).   After that, it sonically erupts in blackened metal mixed with Saxophone playing.  Many guitar FX mixed in and combined with lots of ugly screaming on the backing track.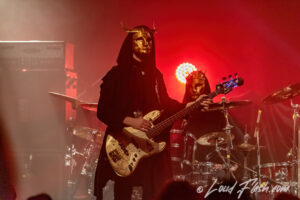 Thereafter, Steve gets into a very unique sounding bass solo and move on to 'Atomic Age'and the show concluded with the grandiose 'Swarming Opulence' which watching the video  you can try to ascertain what it is about?
Frankly, I find them right up there with some of the most horrifying and disturbing music ever produced.  And this is a good thing!  This is some of the most innovative extreme music you will ever hear or see for that matter and I HIGHLY recommend you see them or pickup their music.  It may take you a few listens to really grasp what they are doing but in my eyes they are a pretty important band to inspire others in the future of Black Metal or metal for that matter.  They are on a major label with Century Music now and I expect even more from them in the near future!