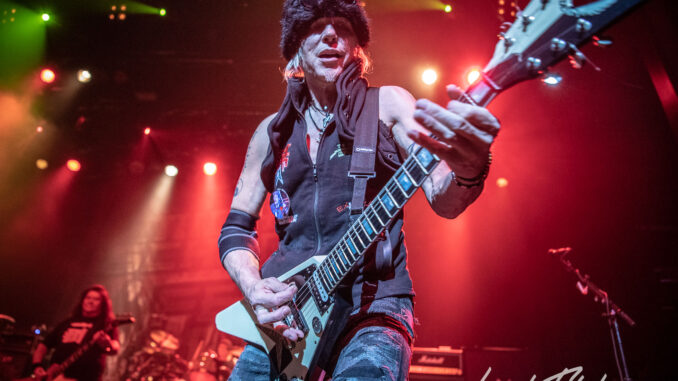 One of the premiere guitarists on the planet, Michael Schenker has made his way to Vancouver's Vogue Theatre, thanks to The Invisible Orange Productions.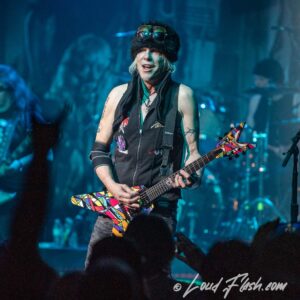 IN case you don't know who Michael Schenker is, he has been around for many years in a couple high quality bands such as UFO, Scorpions and as well as his own.  Heck, he wrote hit songs with UFO when he was a mere 17 years old.  His guitar playing is described as more 'feel' than 'speed', which is very evident in anything he has done in his entire catalog.  Being that this is my first time seeing Michael, this is going to be a treat to witness him playing his signature flying V guitars on his best material.  I have been looking forward to this night for months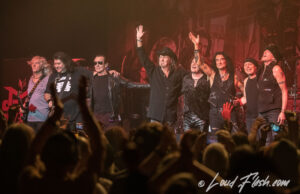 Tonight, he brings along FOUR highly experienced vocalists (thus the 'fest' part) to tackle anything that he has written over the years.   This includes Gary Barden (guy wearing hat), Graham Bonnet (sunglasses), Robin McAuley (ripped jeans/80's metal look) and Doogie White (black shirt).   It was amusing at one point, Doogie mentions that they are to be known as the "Schenk-ettes".   The rest of the band consists of Bodo Schopf (Drums), Steve Mann (Guitar/Keyboards) and Chris Glen (Bass).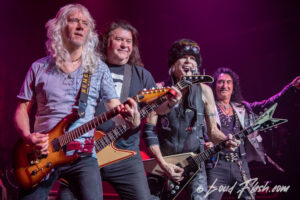 The show starts off with Michael entering the stage solo and explaining what we will see tonight and gets into an Scorpions classic 'Holiday'.  He actually does some singing here (about half the song) to add some German flavor to it.    Speaking of the Scorpions, at one point in the show in between songs Michael actually trash talks his bro a little (in fun I think) on how Rudolf stole his 'look'.   Gotta admit, Michael has quite a sense of humor.  Song two gets us into another UFO classic 'Doctor Doctor" where we get some multiple singer action with Gary Barden and Doogie going back and forth.  The vocals are great from all four singers I must say.  Top shelf.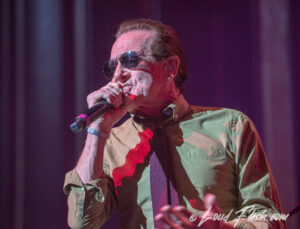 Most of the 31 songs tonight (and just about 3 hours long, great value) are Michael Schenker Group material; all four vocalists take a few songs at a time or either alternated.  I was looking forward to some McAuley/Schenker material too, Robin still has the pipes to handle all those hair metal band days in the late 80's.   Noticeably absent from the setlist however, was the 1987 hit "Gimme Your Love" , which maybe was not a fit with the rest of the set?  Not certain as to why they didn't play that, but it's not such a big deal as all songs played tonight were just mind-blowing performances one after another.  Graham Bonnet especially as a highlight on 'Desert Song', which was a outstanding performance.  Michaels playing ability is still awe inspiring (at 64) and flawless as you might of figured.  He can still shred with the best of them and plays it all note for note from the albums.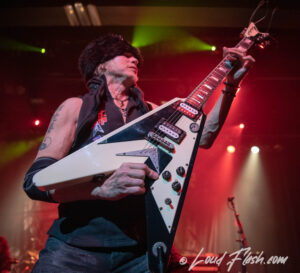 The last four songs were all dedicated to Michael's UFO days.  'Rock Bottom' (UFO) contained a great drum solo from Bodo Schopf.   That is one thing we don't see much of in concerts with modern metal, likely just not enough time for such things?  The night ends with 'Lights Out' which was very appropriate for the ending, and is one of my favorite songs of all time.   Talk about concluding on a positive note!    Don't hesitate!  Go see Michael Schenker Fest!