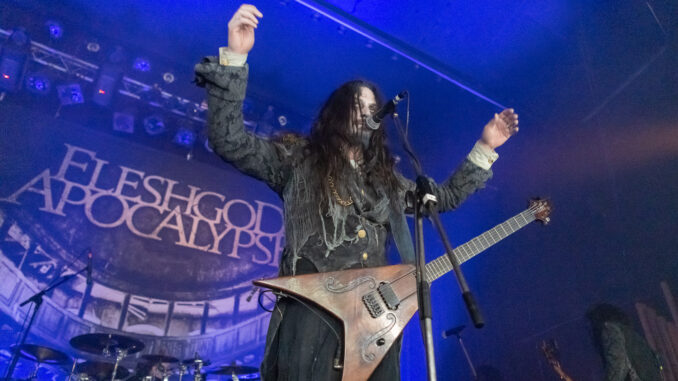 Orchestral death metallers Fleshgod Apocalypse are back to Vancouver's Rickshaw Theatre brought to us by our friends from Invisible Orange Productions.
Hailing from Italy, they are set to release their fifth opus with Nuclearblast on May 24 called "Veleno".
The band has had quite a few lineup changes over the years, and the latest is the recall of Francesco Paoli on vocals.   He was in the band  from 2007 to 2009 and is back in 2017 with his awesome thunderous voice.  Paolo Rossi on Bass has been in the band since day 1 (2007), others include Francesco Ferrini (on a large upright piano which you rarely see at a metal show), Fabio Bartoletti on lead guitar, David Folchitto on Drum and Veronica Bordacchini on Soprano vocals.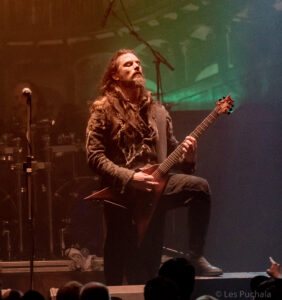 They start off with 'The Violation', a fast song with some incredible blast beat work from David on drums.  That sets the tone straight off with Francesco's growling vocals definitely on point.   Song two we 'Healing through War', however some sort of stage power outage occurs and the band does a full redo of the song (a lot of bands just would've skipped it but Fleshgod is not the type to short change their fans).
Love the look of the band.  Their guitars have that design you see on old school violins with a dark wood look (see pics).   They are wearing full costume jackets as well, kind of like something you would see in a 16thcentury orchestra, very haunting atmosphere with lots of fog creating ambiance.  Veronica is in full costume and holds a large staff for much of the show.  Her singing is spectacular this night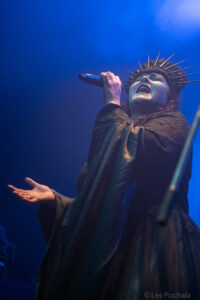 Song number four, they play 'Sugar' (from soon to be released "Veleno").  An absolutely crushing song with some nice solo work near the end from Fabio which I can say is the highlight of the night for me.  All in all they did nine songs from their catalog ending with an mostly instrumental "The Forsaking', which really highlights their skills as musicians.  It was a very appreciative crowd and I really enjoyed their whole set.   I am really looking forward to the hearing the entire new album when it's released!