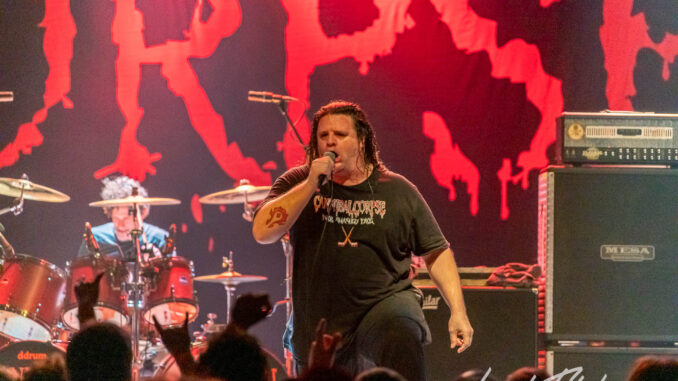 We have been anticipating this show for some time now in Vancouver, as the kings of Death Metal – Cannibal Corpse are ready to hammer smash……..ears!
The place is packed to almost capacity for this one as the Vancouver Cannibal-lites are hungry to hear some songs off the new album.
Tonight they are still touring in support of "Red Before Black" released by Metal Blade back in 2017.  I am thinking that they are probably getting close to the end of this tour cycle with this album as they have been just about everywhere on this tour.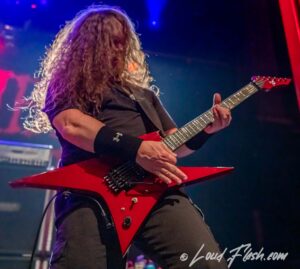 Earlier this year we got to see them in Seattle and not much has changed since then with the lineup, however fans will recall that — guitarist Pat O'Brien — had some personal issues and was replaced by Erik Rutan.  This is the first time in Vancouver with Erik in the lineup and you have to wonder if Erik will eventually become a permanent member of Cannibal?  Only time will tell on that question but he is plenty capable of it that is for sure.  But I can say tonight the band sounded a little tighter than Seattle and Erik has blended in quite nicely.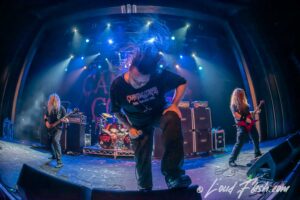 We start off the night with the brooding guitar riffs of 'Code of the Slashers', as Erik and Rob Barrett hit the stage.   Next is Corpsegrinder is walking to the front centre and has started his signature headbanging style and begins his guttural roar.  Max Webster is sporting a beard, as one of Death Metal's most renowned bassists is pounding away along in time with longtime drummer Paul Mazurkiewicz. I feel the breeze in the photopit as the entire front row is consistently bowing in unison. IF you did attend the show in Seattle earlier this year, you would have noticed that this set is abit longer with 18 songs. The difference being that we get 'Unleashing the Bloodthirsty', 'Gutted' and 'Firestorm Vengeance', so great deal for us in Vancouver!
Other notable songs that as a Cannibal fan, need to hear, 'Staring through the Eyes of the Dead', 'Devoured by Vermin', 'Evisceration Plague and 'Make them Suffer' are played to perfection as usual.   George 'Corpsegrinder' is still as brutal as ever and continues his comedic mic banter between songs.  He likes to tease the fans (playfully) that they can try to headbang as well as him but they will "FAIL".  He is usually right.
"Listen, it has to end sometime" says Corpsegrinder after the 16th song (Make them Suffer) "Wait, you want more than this last song? As the crowd cheers "Well after careful consideration of your CRIES and PLEAS for MORE than this last song, I've decided out of the kindness of my heart…………ITS STILL THE LAST SONG HAHAHA, in your face bitches! " Then they tear into the classic 'Stripped, Raped, and Strangled'.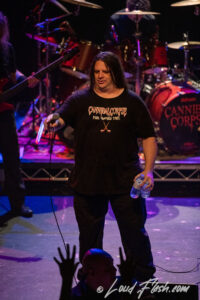 But after that song…….George confesses in his death metal voice, that "I LIED" and they hit their favorite show ender with "Hammer Smashed Face".  Phew!  How can we have a Cannibal show without that song?   What is great about Cannibal, you know what you are in for, no crazy lightshow or glitzy stage props.  They don't need that.
After another highly successful show (I have seen about 7 Cannibal shows since the Gallery of Suicide tour), every one of them is a head crushing event that leaves every fan fully satisfied!  I can't wait until the next album!