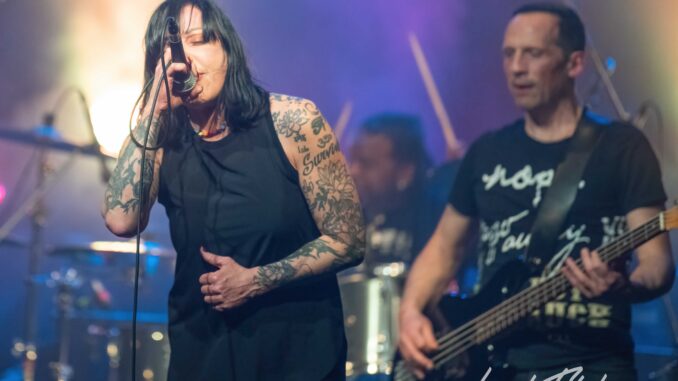 I sit here at my desk with a bad case of writers block, trying to figure out how am I going to start this review about Bif Naked show at Vancouver's Rickshaw Theatre?
Thinking back in the 90's when I had picked up 2 of her albums 1998's "I Bificus" along with the ep "4 songs and a Poem".  I used to play this former Winnipeger's edgy punk styled music quite abit at the time and am super excited to FINALLY see this talented artist Live in action.  Not to mention she is performing mere inches within me in the photopit.
Bif (her real name is Beth Torbert) was set to release a new album "Champion" in 2020 but as you know the Pandemic hit and she felt that a new album released at that time was just not something she was up for.   She did mention during the show that they have written 28 songs in the meantime so it's not like she has any shortage of material in the years to come!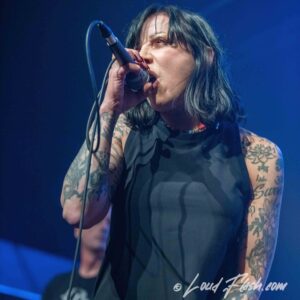 The lady likes to talk a lot between songs, and maybe this was her schtick tonight (did I miss the memo on that?).   A lot of what she talks about is her past adventures and odd stories in the music industry thus far.   She even had a story about her managers telling her at one point, not to talk so much and to just play.  Then she gobbed a big loogie and horked across the stage to symbolize what she thought of that idea.   But it was also great hearing her (the now Toronto dwelling Bif) with her in-between song banter as it got us caught up on what she has been doing these past 5-6 years since she last performed at the Rickshaw (or Vancouver for that matter).
Being that she is 50, she still has A LOT of spunk and has quite a lively stage presence.  This night she hit some of her best this with the ballad  'Lucky', the punchy rocker 'I love myself today', 'Twitch' and of course her big hit 'Spaceman'.   She herself was pretty ecstatic to be on stage again, and it was a great start to what I think will be a busy concert scene this year in Vancouver.   I am interested to see what sort of musical ideas this talented punk rocker will unleash this year with the highly anticipated "Champion".