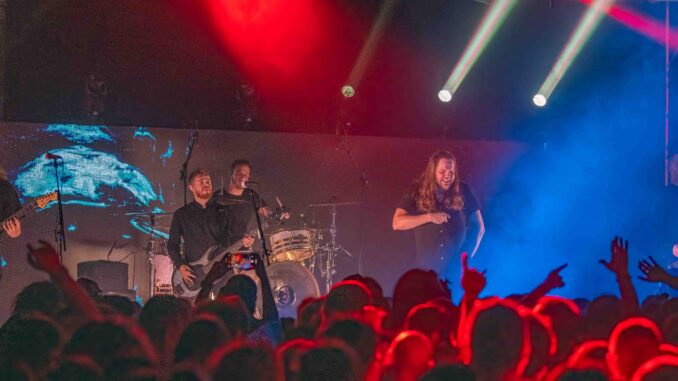 Last year we watched them as a opening supporting band for Slipknot, but this time it's different.
April 17 2022 we saw them with Slipknot opening that show and at the time I didn't know who they were or what they were about.     They didn't get the best sound and by that time I just went and got a beer instead.
I noticed that Wage War were coming with Spite (a favorite band of mine at the moment) as well as nothing,nowhere were coming to Seattle at the Showbox Sodo, so I thought, let's give these guys a second look. They are a metalcore band out of Ocala Florida what from in 2010 and the last album they produced came out in 2021 called Manic
The 5 piece band consists of Briton Bond (lead vocals), Seth Blake (lead guitar), Cody Quistad (Rhythm guitar and clean vocals), Chris Gaylord (bass) and Stephen Kluesener (drums).  They were once known as the band Empires but changed the name to Wage War in 2013 and since then there hasn't been any band changes since.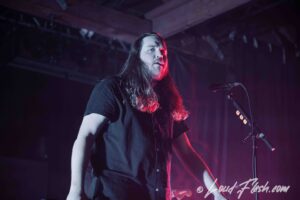 They start the night with a song called "Relapse" from the Manic album,  and as Briton is walking towards the mic I see him mouth "wow" as we have a close to sell out crowd here at the Showbox Sodo.   As I scan the audience it's a young generation with lots of males, females and mostly young in their 20's.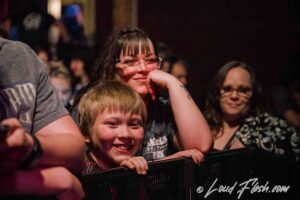 Song 2 another Manic song,  "Teeth", it's a song characterized by lots of death core vocals but also hooky vocals that are sung quite well by guitarist Cody.
Interesting observation at this show – that they have a lady on a box doing sign language for some of the audience members that have a hearing impairment. One does the signing and other holds a iPad with the bands lyrics.   I am in complete wonderment how they keep up!   I have never seen this at a concert before this, pretty cool.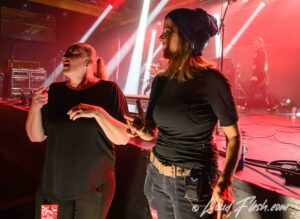 The general ambiance here on stage is very dark, with some fog machine action on a lot of the songs.  The sound is not too bad either and vocals seem to be cutting though nicely, even the clean vocals.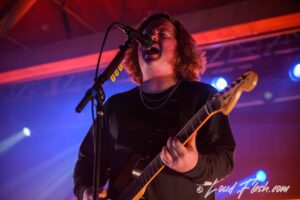 They do follow that typical metalcore formula of heavy as hell, then clean chorus, then repeat for a lot of their songs Like "Low", "Southbound", "Indestructible" but at song 7 with "Gravity" its full on clean with Cody taking that song.   He sings pretty darn close to the albums too.
About mid-show, things begin to turn at song 9 with "High Horse" in the way of no clean vocals, and 100 % Briton deathcore-like.  It's a pretty pulverizing song live.
They go Back to metalcore with "Slow Burn" on song 10, kinda of a radio friendly song that appeals likely to some of the crowd I see in the audience.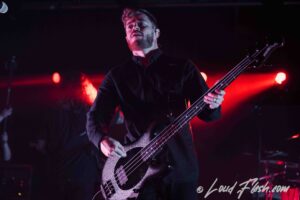 They alternate back to a metalcore song with "Youngblood" then song 13 "Stitch" with the deathcore vibe and continue that pattern.
Song 14 is "Me Against Myself" off 2019's Pressure album, which is a ballad but right after the heaviest and my favorite song of the night "Death Roll" off of Manic.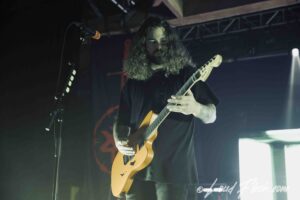 They do 18 songs this night, which are in the 3-4 minutes on average.  Half of the songs (9) are all from the current Manic album.   They do a 2 song encore with the acoustic "Johnny Cash" (pretty slow song) and lastly "Manic" which is insanely rowdy, with its chorus and finishes the audience panting from jumping.
I really see the fan appeal of this band however.   They have that metalcore vibe with Cody on the vocals but can easily switch it up to heavy deathcore with Briton on the mic with the very next song.   Not many bands can cover that spectrum this well and save face from one genre to the other.  Did they change my mind?  Certainly did!  Definitely going to be listening to these guys more often and give some attention to that Manic album.   They will be visiting Canada (specifically Vancouver July 6th ) this summer, best you check them out !