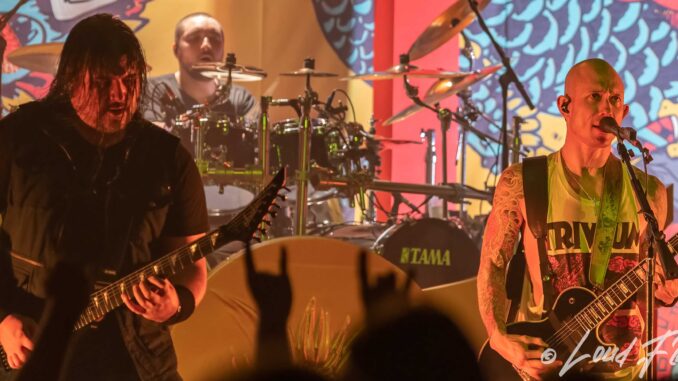 Ever go to a show and wonder when these guys will headline Arena sized venues?
It's only a matter of time when the big bands like Iron Maiden, Judas Priest, Metallica, Anthrax and Megadeth start calling it a day.  Who is going to be the next generation that takes the mantle for metal? Arch Enemy or Killswitch Engage perhaps?  Opeth and Amon Amarth are on their way, Lamb of God as well, and Slipknot sell out Arena shows.
It's abit of a chin waggle to think of it, but for me I think one of them will likely be Trivium.   They have been putting out consistently strong and well written albums ever since their first album Ember to Inferno back in 2003 and each album has 2 or more SOLID hits on it.  Since then they have now 10 albums in the discography with the newest being the Court of the Dragon released in 2021.  When are people going to wise up and get behind this Grammy nominated (in 2019 for "Betrayer") band?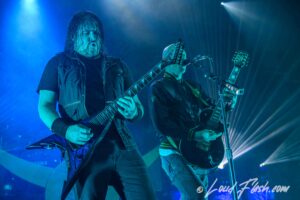 Tonight we do see them headline at Vancouver's Vogue Theatre (courtesy of MRG) with amazing supporting acts of Khemmis, White Chapel and Between the Buried and Me.  It's a pretty stacked line-up of metal.
The last time we saw this band in Vancouver, was 2018 at the Commodore Ballroom and lead vocalist Matt Heafy had to leave the tour because his wife was expecting a child.  I'd say that's a pretty good excuse to leave!  The band continued on however with the tour and we got Light the Torch singer Howard Jones AND Jared Dines substituting, along with a few songs sung by Avatar's Johannes Eckerstrom.  It was quite the extraordinary show that was for sure.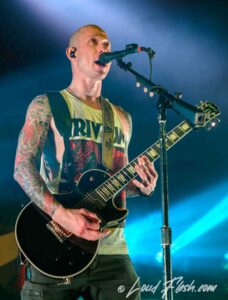 Trivium are back in full form and they hit the stage with one we have not heard live yet with "What the Dead Men Say" from the same titled album in 2020.   They are getting us back up to speed as to what we missed since the last time they were here with Matt 5 years ago.
The stage setup is pretty straight forward with the 3 microphone stands parallel to one another as Cory Beaulieu (guitar), Paolo Gregoletto (bass) will add vocals to the songs.  Matt likes to move from mic to mic when he sings, so the three stands up front work pretty good for him.  We also get the hard hitting Alex Bent on drums who is such a fantastic player.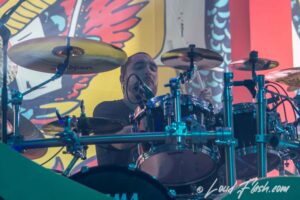 On top of that, we see a gigantic backdrop of some beautiful ancient Japanese artwork, as they rip into song 4 of "The Sin and the Sentence" from that same album in 2017.  But song 5 caught me off guard, "Amongst the Shadows & the Stones" is a debut song on this tour, and rarely played live even.   It's a song that really stretches the vocal chords right at the very start and also  some pretty thrashy guitar riffs.
Song 6 again, another rare one they don't play a lot of on tours, which was "Chaos Reigns" from 2011's In Waves album.  I looked on Setlist.fm and noticed they have played this maybe a half dozen times, ever live (not 100% if that's accurate but likely rare still).  So looking at other tour dates, they have been switching up songs to keep things interesting.
Songs 7 and 8 we finally get to the new album and they don't squander the opportunity with what I think are the 2 strongest songs on the album.  "The Shadow of the Abattoir" is the more subdued one, with some clean vocals but to me the vocal level was set too low and wasn't too audible from where I sat near the soundboard. There was lots of dazzling solo work from Cory on that song throughout. The 8th song was of course the lead track "In the Court of the Dragon" that got the mosh pit in full crisis mode.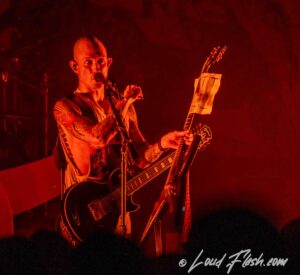 During song 9 "To the Rats", Matt was passed a guitar that he missed signing back in 2018.  One thing about Trivium, they are pretty decent with their fan base and Matt expressed how much he missed playing in Vancouver, which was gratifying.
Song 10 "The Heart From Your Hate" from The Sin and the Sentence was definitely my favorite performance of the night,  and by judging by the audience, they agreed as they went pretty ballistic at this point.  It's just a great song with a hooky start, catchy chorus, and all clean vocals that likely gives Matt abit of a break.
We do get one vintage Trivium song from Ascendency (2005) with "A Gunshot to the Head of Trepidation".  I actually saw that tour back in 2005 when they played the Croatian Cultural Centre.  Matt had A LOT more hair back then but when I first saw them I knew these guys were going to be around for a long, long, time after that incredible show.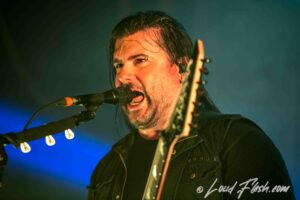 They end the night with one of their quintessential core songs and fan favorite with "In Waves". Just to make sure everyone leaves the Theatre all sweaty and with sore necks.
So it was a night of a song or 2 from 7 albums with a total of 12 songs.  Not one from Vengeance Falls (usually 'Strife'), Silence in the Snow or their first album Ember to Inferno. Could've it been nice to hear a couple more in the set?  Sure!  Did anyone leave disappointed? NOPE.
They definitely brought their 'A' game to Vancouver.  It's only a matter of time before they play bigger and bigger venues I predict in the coming years.  Maybe next tour (hopefully before 5 years) we see them at a whole new level…