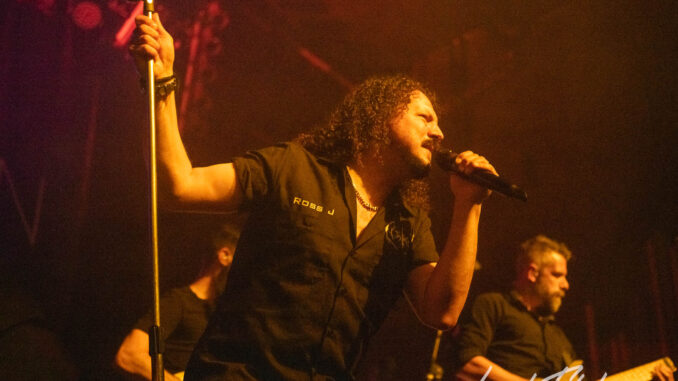 IF you bred the band Animals as Leaders with the band YES, would you get a love child called Haken? I know it's a silly analogy but that's what I always think when I listen to progressive metal/hard rock band called Haken.
Haken are on tour supporting Symphony X and I have been counting the days on the calendar until this show finally made its way to the Rickshaw Theatre here in Vancouver BC.  Haken is based out of London England, and currently has 6 albums in the discography, with "Virus" released appropriately in 2020.
They have had a pretty consistent lineup through the years (since 2010) with Conner Green (bass), Charles Griffiths (guitar) Raymond Hearne (drums), Peter Jones (Keyboards), Richard Henshall (guitar) and Ross Jennings on vocals.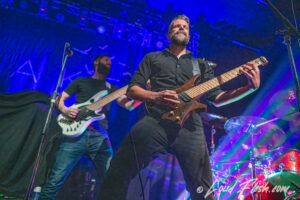 The band starts off with my personal favorite 'Prosthetic' from the Virus album.  This is pretty surreal moment for me because I have been listening to this song A LOT since it came out.   It very HEAVY and could start a mosh pit but this doesn't appear to be the type of crowd we saw last night with Cradle of Filth here at the Rickshaw.  The song is very Tool-like with some great nugga nugga nugga guitar riffs, and to me, a catchy chorus that comes off just as great live as on the record.   The tail end of the song has some great chugs for headbanging too as the audience is very in tune to doing just that. Believe me, I was fist banging while trying to hold my camera with all the excitement around me.   Such an electric opener to the show!
From there song 2 is again off the Virus album with 'Invasion' that starts off pretty slow but midway gets into that very modern Djenty guitar thumps that we would hear from a band like Animals as Leaders.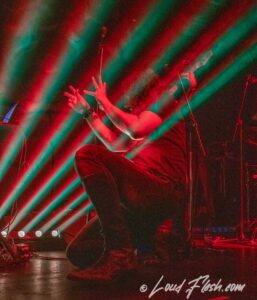 The lights are a rainbow like strip coming from behind Ross as we see him doing some crazy poses and attempting to do some shadow puppets with his hands.  Kinda amusing!  But his voice is dead on this night and I was satisfied that he hits those notes impressively, especially with new  song 'Nightingale'  (3rd song) that they just released in April coming from a forthcoming album.  If that's any indication of that what we have to look forward to, this band might need to be considered at awards season.
Song 4 we get 'Cockroach King' and thereafter, the instrumental 'Nil by Mouth' from the 2018 album called "Vector".  Nil by Mouth is a great showcase of some great Djent work with some very intricate start and stop guitar work.   Both Richard and Charles play 8 string guitars along with the small Quad Cortex floor modelers instead of big bulky tube amps for their sound.   The sound produced is quite sharp and clear.    In fact, the whole band sounds quite glorious this night….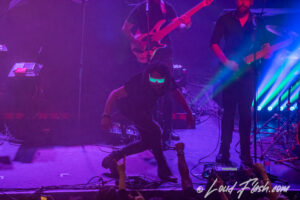 Things get quirky with the next one with '1985' where they play the YES classic 'Owner of a Lonely Heart'  (1983).   I was taken back by this because I always wondered what Ross would be like singing that specific song.  He sounded great by the way, while wearing those wild lit up glasses!  Great keyboard work with Peter Jones here in this one too.
They end this with one more (7 songs in total) off the latest Virus album called 'Carousel' which has just about everything you would want to hear in a modern metal song like Djent, solo, great vocals, unreal drum timing, soft parts, heavy parts…..wowsers.   All in all, the "lovechild" Haken, put on an unforgettable performance this night.  Are they in the same league as Yes and Animals as Leaders, very soon the might be……only time will tell.