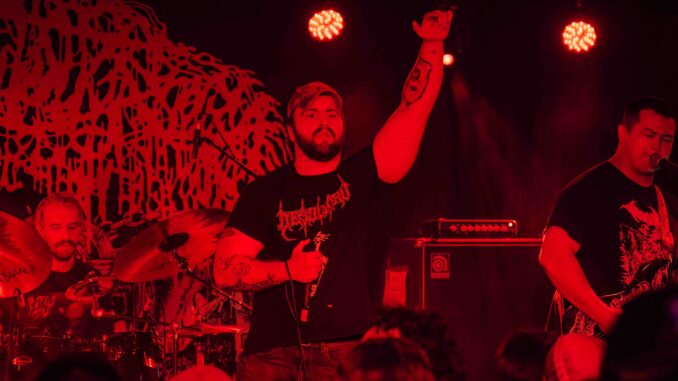 "First one to bleed gets a free shirt and if you Break a bone, 2 free shirts." – Devin Swank of Sanguisugabogg
The 2023 edition of the Modified Ghost festival has begun and features acts such as The Black Dahlia Murder, Yob, Archspire and tonight's headliners of the first night of the festival: Sanguisugabogg.
Sanguisugabogg (took me a week to learn how to say and spell that) are a Columbus Ohio Death metal band that specialize in grotesque death metal.   They are known for some of the filthiest lyrical content you will ever hear and guitars tuned down super low to G (GDGCEA) and have abit of a groove with the drum beat.  No need for a bass player.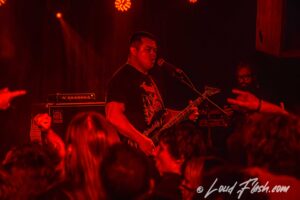 Sanguisugabogg are a 4 piece band that feature the guttural vocals from Devin Swank, Cody Davidson (drums), Drew Arnold (guitar) and Ced Davis (guitars).  They have 2 albums to date, one being from 2021 called Tortured Whole and a brand new one from 2023 called Homicidal Ecstasy (Century Media).
Tonight's SOLD OUT show is at The Cobalt, which is a small, dark venue downtown Vancouver that recently re-opened.  Prior to Sanguisugabogg, warmup acts Incision, Detherous and Armed for Apocalypse definitely did their part in working up the Vancouver crowd into frenzy.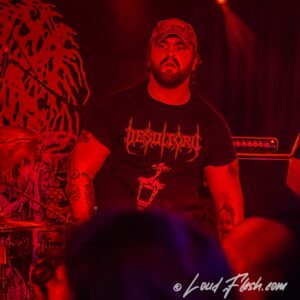 Sanguisugabogg hit the stage with completely red lighting for the entire show, and start off with one from the new album called "Black Market Vasectomy".   Devin shouts out the instructions to the crowd to do stage diving and that to make sure people are caught.   Not a lot of stage diving is seen in bigger shows manly because of the liability issues.  But no fear of insurance issues here as  Devin says "spin this fucking room" for the moshing to heat up and diving is encouraged.
It's their first visit to Canada, as the 2nd song is "Face Ripped off", and then thereafter, "Pissed" both off the Homicidal album.   They sound just like they do on their album too, and just as devastating.  Really enjoying the drums on these songs from Davidson, they have a polka beat feel to them, which is great for the moshers.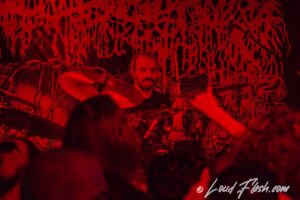 "Yo everybody on this fuckin stage, jump off and give something for somebody to remember, bitch!" as Drew shouts as they get into "Testicular Rot" at song 4.    By this time, the crowd surfing is in full swing as bodies are lifted to the back of the venue.  One big guy is doing that ninja moshing which is characterized with windmilling arms and kicks, he is later tackled because non of the others in the pit tolerate it.   The pit can be described as overly wild and violent this night.
"Circle pit!, Circle pit!" as Devin commands the crowd to get lit during song 7 "Necrosexual Deviant". Song 8 is abit of a treat with "Permanently Fucked" as that song is not on any of the albums.  I read that the band name is a combination of 'Sanguisuga', the Latin word for "Leech" and "bog" is the English slang for "Toilet" (source: Encyclopedia Metallum).  I would say that is an appropriate name for a band with these lyrics right?  Leech Toilet.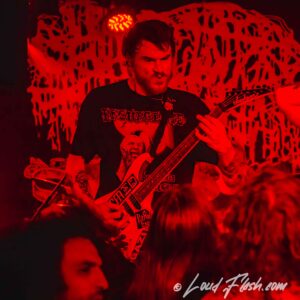 Song 10 is a request to the crowd and "Dead as Shit" is from the Tortured Whole album at song 10.  Devin wants world war 4 in the pit.   This song sounds a lot like something Immolation would have created with the pinch harmonics.   Love this one.  Tried filming it but I got hit by someone in the pit and that ruined it.  Ah well!
They end the 12 song set with a short sexy one called "Posthumous Compersion" which is basically about having sex with the dead.  What's wrong with that right?
If you are down with death metal at its lowest levels, Sanguisugabogg is a hot plate of molten flesh that you need to be served with.   They love getting the fans involved and in motion and stay true to the material on the albums. It was a great start to the festival but hopefully next time we see them in a larger venue with some better lighting and roaring sound.